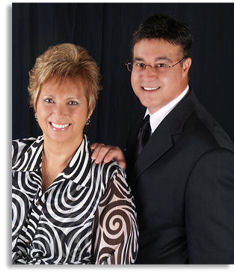 Kirk and Janelle minister the power of God and flow in the anointing of the Holy Spirit. They minister salvation to the lost, healing to the sick, deliverance to the oppressed and above all love to the body of Christ. I am pleased to have Janelle serving on the executive board of Anchor Bay Evangelistic Association. Any church would be blessed to have them come to minister.
Dr Maurice J Hart
President of Anchor Bay Evangelistic Association

We have known the evangelistic team of Kirk and Janelle Wade, Just Believe Ministries, for several years. I have the privilege of serving on the Board of Directors of Anchor Bay Evangelistic Assn. with Janelle. I am repeatedly made aware of her exceeding skill of hearing from God in many matters of importance. Kirk and Janelle have conducted multiple successful revivals at our church. We consider them to be excellent ministers of the truth of God's Word, and to be ministers of uncompromising integrity. Kirk and Janelle are welcome to fill our pulpit anytime. Jodi and I consider it a privilege
to recommend their ministry to any church large or small.
Dr. Jim and Jodi Adams, Pastor
Restoration Fellowship Church, Bryan, OH.

It is said of Jesus that His scars say it all, His eyes see it all, and His heart feels it all. As you experience the ministry of Kirk and Janelle Wade, you will find they have scars in their hands, vision in their eyes, and love in their hearts. They simply wear Jesus well. To know them is to love them. Their ministry speaks the language of the risen Savior.
Rev. Gerald Doggett
Gerald Doggett Ministries, Orlando, FL

I have known Kirk and Janelle for almost ten years. In their personal and ministry lifestyle, I have only known them to be of high integrity. Every time I have been with them in person or in ministry settings, the presence of God has always been manifested. I have enjoyed their friendship as well as their ministry. As a result of having them minister several times in my church, I have been able without concerns, to recommend their ministry to many of my pastoral associates.
Rev. Phillip Myers, Pastor
Bethel Temple Church, New Baltimore, MI

Kirk and Janelle Wade are anointed to set the captives free. They are used by God to bring healing to the broken hearted and deliverance to the oppressed. They have strengthened and encouraged the members of Church of Hope through solid Bible preaching and an anointed altar ministry.
Rev. Bruce Shelly, Pastor
Church of Hope, Waterbury, CT.